With Heart and Soul: A unique insight into our organisation
Smart Packaging Solutions has been in existence for over 30 years. Throughout the years, the company has gone through various phases: from the start, initial growth and takeovers to now, with an eye to the future. Since 1999, Smart has developed a close partnership with André Pelgrims, the driving force behind Taking Wing. André and his team help organisations with their challenges in the field of leadership, team dynamics and change. For this article, Johan De Neef, Managing Director of Smart Packaging Solutions, and André talked about their years of collaboration to offer a unique behind-the-scenes look at Smart.
Growing pains, maturity, vulnerability and emotional undercurrents. These are words that are not used in classic management jargon, but that come naturally to Johan and André during their conversation. The two have known each other since 1999, when Johan came to André with the words: "My body is tired. I want you to look at it." André was more than able to put his finger on the sore spot(s).
Growth
The body Johan referred to was Smart Packaging Solutions. The company was 10 years old at the time and experiencing growing pains. "It's like you're constantly banging your head against the wall and losing control," says Johan. "I met André as a teacher during a course on 'Change Management', where I left with more questions than I had arrived with. That was unique." Asked to describe André, Johan replies, "He is the godfather of real change, of real group dynamics and of real culture adaptation. He sees the needs of organisations."
"Executives know: with Taking Wing in the house, you will have to learn to deal with loss of control," André adds. "One of the first insights Johan picked up was: 'As a leader, you are in charge, but you are not in control'. The growth potential and the real control of a company lie with the floor and middle management. You have to involve them much more."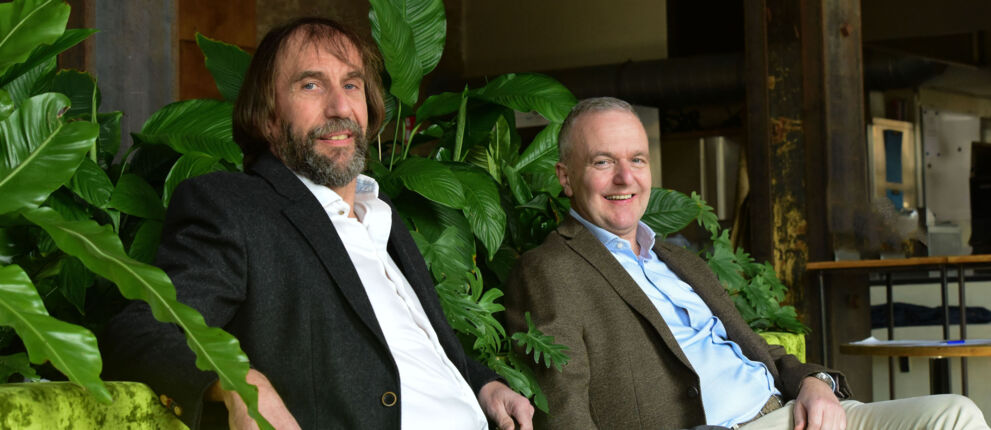 MATURITY AND VULNERABILITY
André takes an active role himself. "For example, as part of an assignment I once worked incognito on the night shift at a company to get a feel for what was really going on. And then to learn to discuss it. Because in case of dissatisfaction, employees can symbolically set the whole thing on fire or build up their own maturity together. When people show their insecurities and vulnerabilities during such honest conversations, then I know I am there. That is the sign of a growing form of transparency, honesty and integrity. For me, basic ingredients for placing more responsibility with the floor."
UNDERBUILDING
In his work, André does not only focus on the floor, but also engages with the entire organisation. "I ask people to learn to listen to the emotional undercurrent of their organisation and to become aware of their own emotions. If managers do not make contact with their feelings, they are often insensitive to what is going on in their team. This requires a serious movement from both the top and the floor. That means that a manager has the courage to look at what he cannot control and that someone from the floor dares to look at what he can control. We encourage everyone to discuss this openly and to support each other in doing so. In this way, a connection based on trust is established across the levels.
Taking Wing also had a connecting role to play in the takeover of the plant in Meer, says Johan. "The illusion can be that the buyer decides, but that does not work. There was pride, but also the pain of bankruptcy. So, at that stage we also asked André to help us unite the two cultures."
FORWARD-LOOKING
And the cooperation between Johan and André continues today, with a view to the future. A guiding insight that André keeps a sharp eye on every time is the following: 'No organisation, no team, can be destroyed from outside before it's already been destroyed from within'.
André: "For future-proofing, we now carry out basic maintenance in cooperation with the plant managers. Johan gives us the opportunity to use brief interventions to keep the openness and mutual honesty, to put people in their leadership position and to connect them with each other. Love is a verb; you have to work at it. That's true at home and just as necessary in the workplace."
About André Pelgrims
Besides Smart, André has worked with other large companies such as Johnson&Johnson, Microsoft, Siemens and Randstad, and at the moment he works mainly for the VRT. In the meantime, he has had some 30,000 people around his 'campfire'. What characterises the people who hire him? "They all realise that they need their organisation to make their dream, their ambition, come true. They are modest in this and have a great sensitivity for their environment, because they realise that without them, they are nowhere."