FruitMasters opts for exclusivity with new 'Prestige' packaging
FruitMasters is a leading Dutch fruit cooperative with around four hundred affiliated growers of hard and soft fruit. "We are the link between growers and retail," said Jochem Kuipers, NHD Procurement Coordinator. "We take care of everything needed to get the products to the end customer in perfect condition, right up to packaging, so that growers can completely focus on what they are good at - growing the most beautiful products." FruitMasters has established a new collaboration with Smart Packaging Solutions for one of the packagings.
Good fruit packaging
There is nothing standard when it comes to fruit packaging from FruitMasters. According to Jochem: "For each product, we take customer-specific packaging requirements into account as far as possible, both in terms of construction and appearance. However, a number of general preconditions apply. For example, packagings must comply with all legal European food safety requirements. Packagings must also be suitable for the cold chain, so that they provide guaranteed protection, even under cool conditions. Presentation plays an important role as well. In the retail and hospitality industries the customers want to see the fruit to get an impression of the quality."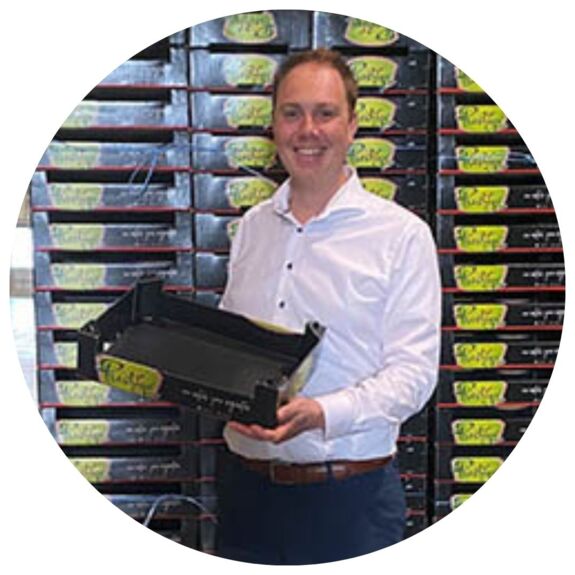 "Smart Packaging Solutions came out on top in the tender with suppliers."
Jochem Kuipers, NHD Procurement Coordinator
Premium packaging for a premium brand
Fruit from FruitMasters is subdivided into several brands. The best soft fruit of the highest quality is provided under the 'Prestige' seal of approval in a more luxurious packaging. This packaging, which has already been around for some time, will from now on be developed by Smart Packaging Solutions. According to Jochem: "Smart Packaging Solutions came out on top in the tender with suppliers."
It is important that the box exudes exclusivity, as it concerns packaging for a premium brand. For this reason, the decision to use solid cardboard was quickly made. According to Jochem: "This material is flatter; there is no visible corrugation, which allows for better quality printing." Besides the advantages of the material, Jochem also underscored the added value of Smart Packaging Solutions: "The graphic quality has improved because Smart Packaging Solutions uses a different printing technique. This is important, because we mainly supply this packaging to the hospitality industry, where it is essential to make a good impression with your brand. It's an attractive, high-quality box that appeals to our customers."
Fruitful cooperation
Jochem reflected on the pleasant initial collaboration. "Smart Packaging Solutions is an organization that looks at things from our perspective. There are many possibilities from a technical perspective; they proactively come up with good solutions that help us advance further. Moreover, engaging with them is a pleasant experience and communication lines are short, making it easy to shift gears. Overall, we're very satisfied."