The
Perfect
Body
High quality solid board packaging
Packaging requirements for logistics in the food industry
The food industry faces major logistical challenges on a daily basis. Products such as meat, fish and vegetables must be packed immediately after processing in quality packaging, which guarantees that the contents arrive at their destination in perfect condition. All of this must preferably be done at the lowest possible cost. In this article we will explain which packaging characteristics contribute to the best and most cost-efficient logistics process possible.
Low transport volume
It is self-evident that you want a logistics process that is as cost-efficient as possible. Our packaging contributes to this. Since there are only a few millimeters difference between the inside and outside dimensions, more packages fit in your trucks. This is particularly true if we do not transport them on pallets, but on our solid cardboard slipsheets, which allow for as much as three to five times more packaging to fit into a truck, consequently leading to full use of the loading space. Our slipsheets also allow for trucks to be unloaded twice as quickly, which will save time and, therefore, money.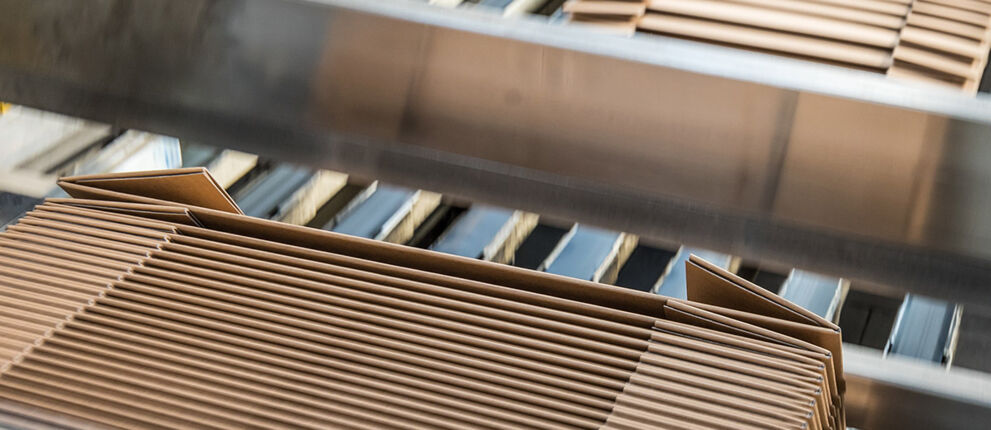 Practical packaging
Packaging demand from the food industry is enormous: thousands of boxes have to be unfolded and filled every day for each organization. If a practical packaging is used that can easily be unfolded, this process can become much more efficient. As our packaging is thinner, it can be unfolded in one simple motion and is ready for use in seconds. This ease of use facilitates a smoother and more economical lead time.
Firm packaging
Vulnerable products require strong packaging. This is especially true if the packaging is stacked several meters high and the lower box must be able to carry the weight of boxes above it. At Smart Packaging Solutions we give you this guarantee. The sturdiness of our packaging makes it easier and more stable to stack packages even higher on top of each other. This provides more protection, but also a faster loading time. The sturdy material also provides good impact and vibration resistance during transport.
Moisture resistance
Certain foods - such as meat and fish - need to be transported frozen to maintain quality. It is therefore essential that packaging of these products remains just as firm when it comes in contact with moisture. The high density of the pressed material makes our packaging moisture-resistant, and it is therefore able to give your products the right protection under humid conditions. In addition, the content of our packaging can be frozen up to 40% faster, which will save energy.
Curious about the logistical advantages of our packaging? Please contact us. We would be happy to help you find a tailor-made packaging solution that meets all of the applicable requirements within your sector.