The
Perfect
Body
High quality solid board packaging
Flower packaging for export
When it comes to the packaging for agricultural products, such as fruit and vegetables, firmness is the most important aspect, as the packages are stacked high and the lower boxes must be able to carry the weight of the upper boxes. In contrast, floriculture products have different requirements in terms of packaging. In this article we explain what these requirements are and why solid cardboard packaging meets these requirements.
Potted plants and cut flowers are transported on Danish trolleys, which makes the strength of the packaging less important. In this sector, brand recognition is the main factor and packaging plays a major role in this regard. At the flower auction, the transport packaging is virtually used as consumer packaging. The products are valued by buyers on the basis of the packaging, which means that they should attract sufficient attention.
Noticeable prints
Because solid board is easier to print on than corrugated cardboard, for example, solid cardboard packaging is ideally suited for enhancing brand recognition. Printing on corrugated cardboard can create the so-called 'washboard effect', as waves are created in the printed matter. Solid cardboard is much flatter, which means that the offset printing is of a higher quality. Smart Packaging Solutions specialises in the printing of solid cardboard. The number of different printing options for growers is immense. Since we also produce our own printing plates, we are very flexible, and we can deliver exactly what the grower wants. Proof of concept v=can be provided within 10 minutes, if required.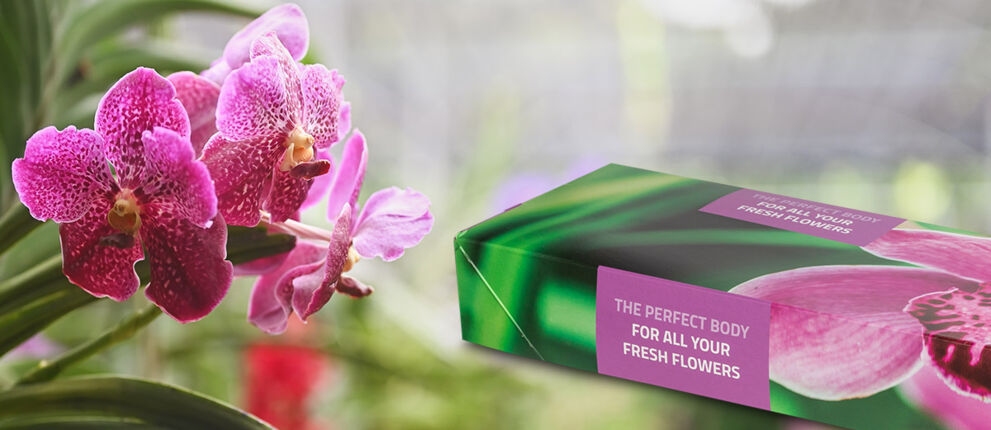 Moisture-resistant flower packaging
Another important advantage over corrugated cardboard for floriculture is that solid cardboard is more moisture-resistant. Flowers and plants are often transported in so-called flower bottles or water holders, which are plastic tubes that provide water to single flowers during transport. The use of these tubes makes it important that the packaging of these flowers is sufficiently moisture-resistant. Solid board has a very high density and is therefore less sensitive to moisture, especially if the material is coated on both sides with a moisture-resistant polyethylene (PE) coating. Should water leak out of the tubes, it will not affect the packaging.

Ornamental plant packaging logistics
Our solid cardboard packaging also provides logistical advantages, which are of particular benefit to growers of flowers and plants, as they often have limited space to collect and package their flowers. Most of them are therefore not able to buy full truck packaging. Because we also supply smaller quantities of packaging on demand, we are in a better position to provide small growers exactly what they need in terms of packaging. In fact, we deliver just in time. We are a clear leader in this regard.
Are you looking for a sustainable quality packaging for your gerberas, anthuriums, strelitzias, cymbidium, rose collars or other pot plants and cut flowers? We will be happy to help you find a tailor-made solution.