The
Perfect
Body
High quality solid board packaging
2 Sisters Storteboom and Smart Packaging Solutions, partners in poultry for over 25 years
For over a century, 2 Sisters Storteboom has specialized in the production, processing, distribution and sale of a diverse range of chicken products. A very long track record, in which Smart Packaging Solutions has played a role as more than just a packaging supplier for more than 25 years. Paul Buitenhuis, supply chain manager at 2 Sisters Storteboom: "The collaboration with Smart Packaging Solutions is, in one word, perfect."
2 Sisters Storteboom, part of the British food multinational 2 Sisters Food Group since 2010, has developed into one of the largest European players in the poultry sector since it was founded in 1904. At one time, chicken products used to be transported to the local market by delivery bike. Now, the company has eight locations; six in the Netherlands and two in Poland, from which the most comprehensive range of chilled and frozen chicken products are distributed to all corners of Europe. Paul: "We have a regulatory function in the chain and are therefore involved in the entire process: from hatching the eggs to the moment our chicken is on the shelves of supermarkets."
Custom packaging solutions
2 Sisters Storteboom's chicken products find their way to very diverse customer groups within numerous market segments. In addition to a varied range, this also requires different packaging methods, tailored to the specific wishes of the customers: Paul: "In general, we think it is important that the packaging is food-safe and cost-efficient. With these preconditions, we want to meet the functional packaging requirements of our customers as much as possible. A good example of this is a new, solid cardboard tray that we have specifically developed for one specific retailer. This tray delivers many efficiency benefits in its logistics chain."
2 Sisters Storteboom has entrusted the development of these and other packaging solutions to Smart Packaging Solutions. Paul: "They are very capable of meeting both our own packaging requirements and those of our customers. We meet several times a year to fine-tune existing packaging or develop new packaging, where we jointly try to marry all our packaging needs into a perfect box. This sometimes leads to clashes: on the one hand, you want the thinnest packaging possible; in order to save on raw materials. On the other hand, it should not be at the expense of firmness. It's about finding the right balance here. Smart Packaging Solutions is an expert in that field."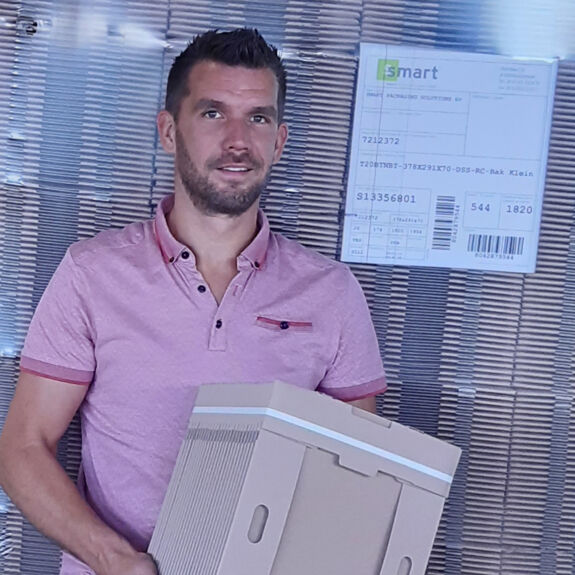 The collaboration with Smart Packaging Solutions is, in one word, perfect.
Paul Buitenhuis
Thinking together proactively
According to Paul, there is also good thinking in terms of logistics: "We order our packaging on demand and receive it just-in-time when we need it. We therefore have minimal stock ourselves; the packaging is taken directly from the pallet on the production line, folded open and packed. This all works incredibly quickly." The warehouse in Poland, which was recently put into use by Smart Packaging Solutions, will also offer a solution for 2 Sisters Storteboom. From here, the packaging can be delivered just-in-time to the Polish branch of the company.
Paul: "We also recently looked at how we can optimize the loading of the pallets together with Smart Packaging Solutions. We used to work with euro-pallets and block pallets. Recently we have started to make strict use of block pallets, which accommodate more packaging. As a result, we receive more packaging with less truck transport. This saves us transport costs and storage space."
Lastly: "To further optimize our chain, we would like to receive and book pallets based on the SSCC labels. Smart Packaging Solutions managed to send me a concept label very quickly. This highlights the commitment of the people who work there. They work and think together with us proactively on all fronts. In one word, the collaboration is perfect."